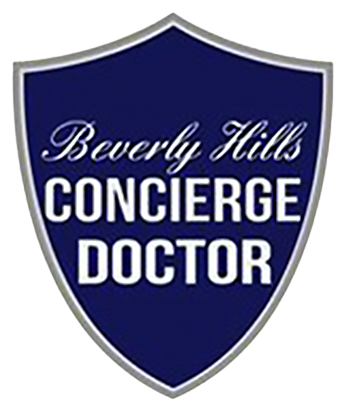 Beverly Hills Concierge Doctor
Executive Health Physicals
What is an executive physical?
A traditional check up/physical/annual check up usually includes a brief visit with your primary card doctor which is a general examination and basic blood work limited to what is covered by your insurance.
An executive physical is a much more thorough, comprehensive and detail oriented exam that evaluates every organ system. In addition to a traditional check up, the executive physical also focuses on early detection of cancer, early screening for heart disease as well as early detection of any organ system dysfunction.
A thorough, extended physical examination with an internal medicine specialist whose focus is on disease prevention and/or women's health

Comprehensive laboratory testing, including blood counts, chemistry panels to assess organ function, urinalysis, cancer screening and cholesterol screening

Cardiovascular assessment, including electrocardiogram (ECG), resting 2-D echocardiography with Doppler, CT-coronary calcium scanning, advanced cardiovascular screening blood tests –

Colonoscopy, IF INDICATED (referred to specialist)

A comprehensive written report of the evaluation.

Mammogram (women over 40 years of age)

Osteoporosis testing, if indicated

Vaccinated as indicated for appropriate ages
Prostate Specific Antigen (PSA/free PSA) Screening

Testicular, hernia, and prostate screening

Testosterone screening (if indicated)
ADDITIONAL ADVANCED TESTING (FEES APPLY)
CT coronary calcium screening and/or angiography 

Resting echocardiography with Doppler or coronary stress echocardiography

Doppler ultrasound to evaluate circulation

Carotid artery ultrasound for plaque scanning

Full body imaging for early detection of cancer/masses/tumors
Benefits of a Beverly Hills Concierge Doctor Membership
We understand your lifestyle. Our goal is to provide highly personalized medical care to the many professionals and travelers in the Beverly Hills and surrounding Los Angeles neighborhoods. The doctor is available 24 / 7 including direct phone access and direct e-mailing. Our special concierge-style model makes certain your time, and quality of care are a full priority. 
Major Insurance Providers Accepted
We accept most PPO insurance plans, Medicare and Self-Pay. Patients with no insurance can pay per visit out of pocket. Please call to find out if your insurance is accepted.
Trusted House Call Services offered 7 days a week
Annual executive physicals are available throughout Greater Los Angeles • Beverly Hills • Malibu • Santa Monica • West Hollywood • Pacific Palisades • Manhattan Beach
Membership Fees
Call to inquire about membership fees and all the benefits included.
Non-member Fees
No additional fees for non concierge services.
You do not have to be a member to be seen.
We accept most ppo insurance plans and Medicare.
Concierge services not be available when using insurance as payment.