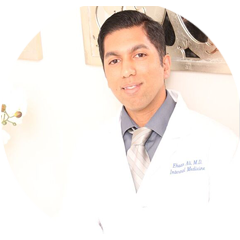 Beverly Hills Concierge
Ehsan Ali, MD
Concierge Doctor located in Beverly Hills, CA serving Greater Los Angeles
Annual Executive Physicals
Every patient should be getting a yearly physical, which is intended to screen for various health conditions. We offer basic annual check ups/physicals, to more comprehensive executive physicals.
A standard physical/check up includes a full examination with blood work. The blood tests are to screen for diabetes, cholesterol, liver disease, kidney disease, immune system abnormalities such as blood cancers. The screening is also for hormonal abnormalities, thyroid disorders, STDs (sexually transmitted diseases), prostate cancer, vitamin deficiencies, and so forth. The comprehensive blood work/urine testing is a way to screen for disease. Additional testing such as mammograms for breast cancer screening, x-rays, ultrasounds, CT scans are ordered based on the individual and their risk factors.
We recommend you come in to our office for a full check up, but our doctors can also come to your home/office.
Benefits of a Beverly Hills Concierge Doctor Membership
We understand your lifestyle. Our goal is to provide highly personalized medical care to the many professionals and travelers in the Beverly Hills and surrounding Los Angeles neighborhoods. The doctor is available 24 / 7 including direct phone access and direct e-mailing. Our special concierge-style model makes certain your time, and quality of care are a full priority. 
Major Insurance Providers Accepted
We accept most PPO insurance plans, Medicare and Self-Pay. Patients with no insurance can pay per visit out of pocket. Please call to find out if your insurance is accepted.
Trusted House Call Services offered 7 days a week
Annual executive physicals are available throughout Greater Los Angeles • Beverly Hills • Malibu • Santa Monica • West Hollywood • Pacific Palisades • Manhattan Beach
Membership Fees
Call to inquire about membership fees and all the benefits included.
Non-member Fees
No additional fees for non concierge services.
You do not have to be a member to be seen.
We accept most ppo insurance plans and Medicare.
Concierge services not be available when using insurance as payment.
Office Location:
Beverly Hills Concierge Doctor
9400 Brighton Way, Suite 303
Beverly Hills, CA 90210
Phone: 424-442-1881
Fax: 310-683-0932
Office Hours
7-Days a Week 8:00 am – midnight
Membership concierge services available 24/7
Have a question?
MD@BeverlyHillsConciergeDoctor.com