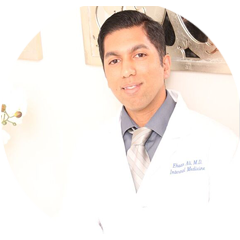 Beverly Hills Concierge
Ehsan Ali, MD
Concierge Doctor located in Beverly Hills, CA serving Greater Los Angeles
Anti-Aging Treatment/ Non Surgical cosmetic treatments:
Our aesthetics doctor offers various non surgical cosmetic services to assist with age reversal.
Removing wrinkles with various collagen fillers or different neurotoxins available can help reverse and freeze wrinkles.
Call to make an appointment. 
Benefits of a Beverly Hills Concierge Doctor Membership
We understand your lifestyle. Our goal is to provide highly personalized medical care to the many professionals and travelers in the Beverly Hills and surrounding Los Angeles neighborhoods. The doctor is available 24 / 7 including direct phone access and direct e-mailing. Our special concierge-style model makes certain your time, and quality of care are a full priority. 
Major Insurance Providers Accepted
We accept most PPO insurance plans, Medicare and Self-Pay. Patients with no insurance can pay per visit out of pocket. Please call to find out if your insurance is accepted.
Trusted House Call Services offered 7 days a week
Anti-Aging Treatments are available throughout Greater Los Angeles • Beverly Hills • Malibu • Santa Monica • West Hollywood • Pacific Palisades • Manhattan Beach
Office Location:
Beverly Hills Concierge Doctor

9400 Brighton Way, Suite 303

Beverly Hills, CA 90210

Phone: 310-683-0180

Fax: 310-683-0932
Office Hours
7-Days a Week

Membership concierge services available 24/7
Have a question?
MD@BeverlyHillsConciergeDoctor.com