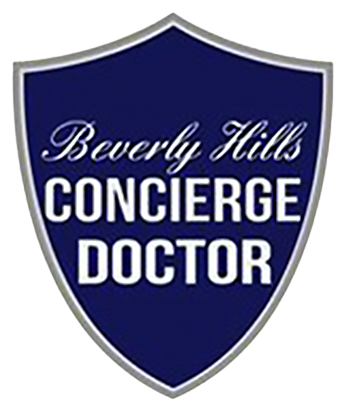 Beverly Hills Concierge Doctor
Aging is a part of life, but there are ways to slow and manage how you age. It is not just lines and wrinkles – your energy levels, health and overall wellness are impacted by aging. At Beverly Hills Concierge Doctor, we provide anti-aging treatments that address aging issues inside and out, helping you look and feel more like your younger self. Our clinic in Beverly Hills, CA, offers various anti-aging treatments, including non-cosmetic treatments and aesthetic procedures.
Non-Cosmetic Treatments
As men and women age, our hormone levels start to decline, which contribute to many aging symptoms. Men decline in testosterone and growth hormone beginning in their 30s. Women also decline production of growth hormone and have sudden drops in female sex hormones, estrogen and progesterone as they approach menopause.
Hormone replacement therapy, or HRT, can restore more youthful levels of hormones for an anti-aging effect. Men can significantly improve their energy, sexual performance, muscle mass and hair growth with testosterone and growth hormone (HGH) therapy. Women have significantly improved menopause symptoms with hormone replacement therapy. Both men and women can restore a more youthful metabolism and libido with HRT.
Another option for internal anti-aging treatment is NAD IV drips. We offer NAD treatment to impact aging at a cellular level, which can be combined with HRT and cosmetic procedures.
Anti-Aging Aesthetic Procedures
Anti-aging cosmetic treatments have come a long way in the last few decades. It is easier than ever to maintain a youthful appearance without the need for invasive plastic surgery. Our office provides non-surgical aesthetic and cosmetic treatments for men and women that can turn back the hands of time and help you look years younger. Services offered include:
Botox® injections
Facial fillers
Chemical Peels
Facials
Kybella®
Most of our anti-aging cosmetic treatments take less than an hour and do not require downtime. We can provide same day appointments for many of our aesthetic procedures. Plus, cosmetic injections can be performed with our house call service for discreet, private treatments.
When you combine anti-aging treatments to address changes that occur inside and out, you can feel and look your best at any age. At Beverly Hills Concierge Doctor, we offer hormone replacement therapy and IV NAD drips to help manage aging inside and cosmetic procedures to improve your skin, hair and body appearance. Contact our medical center in Beverly Hills, CA, to schedule your anti-aging consultation or treatment.