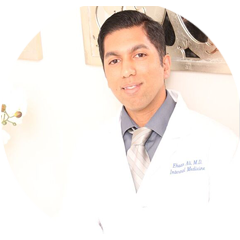 Beverly Hills Concierge
Ehsan Ali, MD
Concierge Doctor located in Beverly Hills, CA serving Greater Los Angeles
Primary Care Physician
 Our staff of board certified physicians are available as primary care doctors. The doctors are trained in Internal Medicine or Family Practice. We are on staff at world renowned Cedars-Sinai. We coordinate care for all our patients who are hospitalized at Cedars-Sinai.
In our office we offer and treat all primary care services. We also have close relationships with specialists in all fields, and refer only to the most reputable specialists.
We are able to perform yearly check ups/physicals, to a wide array of testing. We serve as the primary point for all medical evaluations. Focus is on preventive healthcare, to prevent disease ahead of time. 
 All physicians within our group have been carefully selected to provide the highest level of medical care to our patients. All doctors are Board Certified. All physicians have been trained and top notch medical institutions. We believe in having excellent bedside manner so that our patients can connect with us and build a long lasting relationship.
 Our doctors office is open 7 days a week.
The office is open to ALL patients, you are not required to pay a membership fee. For those people seeking to join our concierge medicine program, they will be offered several perks and benefits that come with the membership. Please call or email us if you have any questions.
Benefits of a Beverly Hills Concierge Doctor Membership
We understand your lifestyle. Our goal is to provide highly personalized medical care to the many professionals and travelers in the Beverly Hills and surrounding Los Angeles neighborhoods. The doctor is available 24 / 7 including direct phone access and direct e-mailing. Our special concierge-style model makes certain your time, and quality of care are a full priority. 
All our members receive unparalleled benefits that a traditional doctors office does not provide. Our office is open to all patients though and membership is not required. Concierge services are offered to those patient that choose to join as a paying member.
Office based doctors visits
TeleHealth/Virtual visits
Housecall/Mobile Doctors
Our Doctors office is open 7 days a week. 
Our housecall doctors are available throughout Greater Los Angeles • Beverly Hills • Malibu • Santa Monica • West Hollywood • Pacific Palisades • Manhattan Beach
Non-members
Our office is open to all patients. Membership is not required

.
Office Location:
Beverly Hills Concierge Doctor 9400 Brighton Way, Suite 303 Beverly Hills, CA 90210 Phone: 424-442-1881 Fax: 310-683-0932
Office Hours
Open 7-Days a Week
Monday-Thursday: 8 am-10 pm
Friday: 8 am-5 pm
Saturday: 9am-1pm
Sunday: 9 am-1pm
Doctor available 24/7 for our concierge members.
Have a question?
MD@BeverlyHillsConciergeDoctor.com