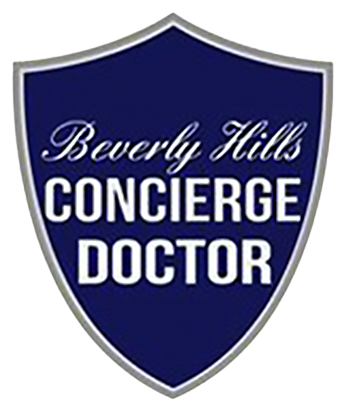 Beverly Hills Concierge Doctor
Hormone Replacement Treatment
Hormones dictate and affect every system in the body. Reproductive hormones especially can have a significant impact on much more than sexual function. Both men and women can experience hormone imbalances as they get older, affecting their health and quality of life. As part of our medical services at Beverly Hills Concierge Doctor, we offer effective hormone replacement treatment or therapy (HRT) through our medical practice in Los Angeles, CA.
Testosterone Therapy for Men
Men have slowly declining testosterone levels by age 40, which is a normal part of aging. However, some men have sudden drops in testosterone production, which can cause abnormally low levels. Referred to as "low T," this condition can impact energy levels, hair growth, erectile function, body weight and libido. Starting HRT with testosterone injections can increase testosterone levels, which can help improve overall health.
Numerous physiological processes depend on testosterone. Stress, aging and some medical diseases, such as hypogonadism, can all cause a drop in testosterone levels. Testosterone replacement therapy aims to restore levels that naturally decline with age, which can have the following benefits:
Increased libido
Enhanced muscle mass
More energy
Better mental clarity
Promote fat loss
Improved sleep
Hormones such as estrogen are essential elements for proper female body functioning. Estrogen levels drop suddenly at menopause, which can have a dramatic impact on many different bodily functions. The menopausal transition is a crucial time in every woman's life that signals some irreversible changes in their body. This natural biological process happens when a woman is in her 40s or 50s, ending the menstrual cycle and often beginning physiological and emotional symptoms.
Hormone replacement therapy is a special treatment for menopausal symptoms and protects long-term health. HRT with estrogen replacement enables women to replenish hormone deficiency with hormones identical to the ones their body produces. Some of the benefits of estrogen HRT include:
Increased libido
Improved sleep
Improved metabolism
Reduce frequency of hot flashes
Better mental clarity
Strengthens bladder muscles
Hormone replacement therapy for men and women can be a game changer. It can quickly return hormone levels to a more youthful level, reversing some of the symptoms of hormone imbalance. If you are interested in learning more about HRT, contact our team at Beverly Hills Concierge Doctor. Call our medical center in the LA area to schedule an HRT consultation.
Benefits of a Beverly Hills Concierge Doctor Membership
We understand your lifestyle. Our goal is to provide highly personalized medical care to the many professionals and travelers in the Beverly Hills and surrounding Los Angeles neighborhoods. The doctor is available 24 / 7 including direct phone access and direct e-mailing. Our special concierge-style model makes certain your time, and quality of care are a full priority. 
Major Insurance Providers Accepted
We accept most PPO insurance plans, Medicare and Self-Pay. Patients with no insurance can pay per visit out of pocket. Please call to find out if your insurance is accepted.
Trusted House Call Services offered 7 days a week
Testosterone-replacement treatments are available throughout Greater Los Angeles • Beverly Hills • Malibu • Santa Monica • West Hollywood • Pacific Palisades • Manhattan Beach
Membership Fees
Call to inquire cost of concierge membership and all the benefits that are included with a membership.
Non-member Fees
Membership not required to be seen.
We accept most ppo insurance plans and Medicare.
Affordable rates for un-insured.
No additional fees charged for non members.
Concierge services not be available when using insurance as payment.