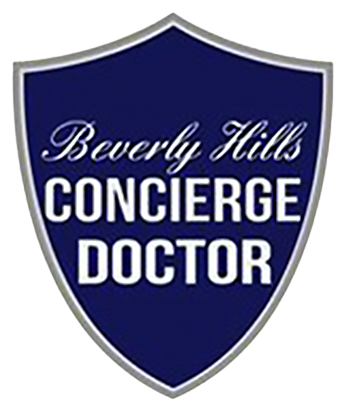 Beverly Hills Concierge Doctor
When your body is deficient in certain vitamins, minerals and electrolytes, it can impact your energy, immunity and overall health. Dehydration is also a common problem due to illness, surgery and other factors. IV therapy infusions are the quickest way to deliver nutrients and fluids directly to your blood stream, bypassing the digestive system for more efficient absorption. At Beverly Hills Concierge Doctor, we offer IV therapy infusions at our urgent care center and through our mobile nurses in the greater Los Angeles, CA, area.
Our practice offers IV vitamin drip treatments that can contain numerous electrolytes, minerals, amino acids and vitamins. Many formulas like the Myers cocktail contain nutrients such as B12, B-complex, vitamin C, glutathione and magnesium – which are used to promote health, supplement nutrition and help recover from dehydration. IV drips are used to restore fluid levels that may be depleted by acute illness, exertion, exhaustion, over-indulgence or many other common factors.
IV Hydration and Vitamin Treatment Specialist
As a board certified internist, Dr. Ehsan Ali offers patients in and around Beverly Hills, CA, IV hydration and IV vitamin treatments for acute and chronic dehydration arising from illness, heat stroke or other causes. Our medical team monitors patients during treatments, ensuring they feel confident about their care. Our IV vitamin drips include the following formulas:
In addition to treating illness, many people get routine infusions for the several health and anti-aging benefits of IV drips. We can customize IV drips by adding or removing various supplements such as CO enzyme Q10, Super MIC (fat burner) and many other nutrients. NAD is also available, which has several anti-aging benefits and has been shown to increase natural energy production at the cellular level.
Our nurses and doctors can also travel to you and make house calls to provide you with an IV drip in the comfort of your own home, hotel, office or production site. Mobile IV drips are available seven days a week throughout the Los Angeles, CA, area, including Hollywood, Bel Air, Malibu and Santa Monica.
Enjoy the benefits of better health with IV vitamin infusions. To schedule your IV drip therapy session, contact us at Beverly Hills Concierge Doctor. We can provide your treatment at our medical center in Beverly Hills or at your location.
Dr. Ehsan, Ali
Describing his take on IV Vitamin Drip services on EXTRA.
Trusted House Call Services offered 7 days a week
IV Vitman Drip concierge services available throughout Greater Los Angeles • Beverly Hills • Malibu • Santa Monica • West Hollywood • Pacific Palisades • Manhattan Beach
Click here to see our member and non-member benefits