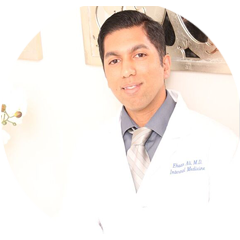 Beverly Hills Concierge
Ehsan Ali, MD
Concierge Doctor located in Beverly Hills, CA serving Greater Los Angeles
House Call Doctor Services
Our team of doctors are available to make home visits in the Beverly Hills and Greater Los Angeles area. Our housecall doctors make home visits 7 days a week and can treat most primary care and urgent care matters in the comfort of your own home, office, hotel, production company or studio.
We also have nurses available to make housecalls.
Procedures such as blood draws, covid testing, IV drips, check ups and most medical treatments can be done.
Call the office directly for to schedule a housecall and inquire about pricing.
Our mobile housecall doctor services are open to all patients, and you do not have to be an existing member. Pricing varies and depends on location and nature of visit. Please call our office to schedule a same day home visiting doctor.
Benefits of a Beverly Hills Concierge Doctor Membership
We understand your lifestyle. Our goal is to provide highly personalized medical care to the many professionals and travelers in the Beverly Hills and surrounding Los Angeles neighborhoods. The doctor is available 24 / 7 including direct phone access and direct e-mailing. Our special concierge-style model makes certain your time, and quality of care are a full priority. 
Types of doctor visits:
OFFICE BASED VISIT
HOUSECALL SERVICE
TELE HEALTH/VIRTUAL VISITS
Trusted House Call Services offered 7 days a week
House call services are available throughout Greater Los Angeles • Beverly Hills • Malibu • Santa Monica • West Hollywood • Pacific Palisades • Manhattan Beach
Office Location:
Beverly Hills Concierge Doctor
9400 Brighton Way, Suite 303
Beverly Hills, CA 90210
Phone: 424-442-1881
Fax: 310-683-0932
Office Hours
7-Days a Week 8:00 am – 10:00 pm
Membership concierge services available 24/7
Have a question?
MD@BeverlyHillsConciergeDoctor.com