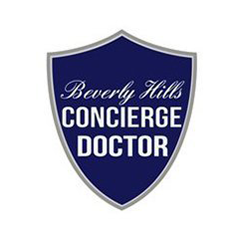 Beverly Hills Concierge
Ehsan Ali, MD
Concierge Doctor located in Beverly Hills, CA serving Greater Los Angeles
IV Vitamin Drip Specialist
House Call Service
Dr. Ehsan Ali is an award winning physician who offers IV Vitamin Drip treatment to patients in Beverly Hills and the surrounding Los Angeles counties. Dr. Ali uses an infusion / IV drip that contains numerous electrolytes and vitamins, such as: B12, B1,B2,B3,B4,B5.B6 (b complex), dextrose, sodium, vitamin C – which are used to to promote health, supplement nutrition, and help recover from dehydration and fatigue caused by acute illness, exertion, exhaustion or many other common factors.
Dr. Ehsan, Ali
Describing his take on IV Vitamin Drip services on EXTRA.
Trusted House Call Services offered 7 days a week
IV Vitman Drip concierge services available throughout Greater Los Angeles • Beverly Hills • Malibu • Santa Monica • West Hollywood • Pacific Palisades • Manhattan Beach
Click here to see our member and non-member benefits
Office Location:
Beverly Hills Concierge Doctor
9400 Brighton Way, Suite 303
Beverly Hills, CA 90210
Phone: 424-442-1881
Fax: 310-683-0932
Office Hours
7-Days a Week 8:00 am – midnight
Membership concierge services available 24/7
Have a question?
MD@BeverlyHillsConciergeDoctor.com
9400 Brighton Way #303, Beverly Hills, CA 90210